Product Description
contemporary modular homes

Advantages of Wooden House
1. Exceptional Insulator & Energy Saver

Some building materials such as steel, inorganic materials which are non-combustible, expand when heated which can weaken and collapse the structure. Wood reacts in an almost opposite manner to this. When heated (not excessively to a combustible temperature of course), wood dries and actually becomes even harder.
Let's make some comparisons here. Glass conducts heat 23 times faster than wood, marble 90 times faster, steal 1650 times faster and aluminum a whopping 7000 times faster.
This means less energy 'leakage' from a home. If you want the warmth (or coolness) to remain in your home, and you want to spend less money on heating (or cooling), wood is a tremendous alternative to brick, concrete or stone. Compared to other construction materials, wood, economically is a star child of insulation.
2. Quick to Build: Saves Money

When compared with brick, stone or concrete, wood constructions certainly do save time, and inherently with that come savings in labor. This is especially applicable in harsh weather conditions such as heavy rain, snow and icy conditions, where wood construction can continue without hindrance. It has also been said from a builder friend of mine that plans for wooden structures are easier to follow than brick, concrete or using steel frames (feel free to comment on this in the comments section as I don't know the validity of this comment).

Wood-framed houses enable easy modifications during and after the building process and it's because of the ease, versatility and cost effectiveness which makes it such a popular and inexpensive choice. Insulated concrete form homes (ICF) can be costly, troublesome and time consuming to alter post build.

3. Environmentally Friendly
Green is the big thing these days so of course this is going to be a big feature in this article. Houses made from trees are sustainable, renewable and environmentally friendly. Did you know that wooden structures absorb and store atmospheric CO2 and that wood, even taking into account haulage, is carbon neutral (in fact, it's the only carbon neutral construction material).

4. Aesthetically Acrobatic
With over 5000 different woods to choose from, there is absolutely going to be something that'll suit ones construction or design desires. Some woods are ideal for insulation, some for acoustics, grain, color, appearance, and others for structural frames, walls, floors, ceilings and furniture.
In my personal opinion, the grain on a piece of wood is one of the most mesmerizing beauties in the natural world, where different hues of color and textures roll back into each other like an enchanting dance. I'm not over embellishing it either. Some of the most breath taking architectural designs are wood centered.
Wood can be painted in any color and can be waxed and varnished which'll brandish its natural finesse. It can be carved, cut, glued and nailed.

5. Safe, Light, Sturdy & Durable
One of the many reasons why wood is still used today, despite huge strides in engineering excellence, is its durability weight and safety. Wood has a little bit of give in it which means it can bend slightly, which is a property which bricks don't have. Therefore, if the foundations shift slightly, the wooden home can flex and move with the change rather than crack. Even the smallest shift in the foundations of a brick house will case cracks to appear in the mortar (not a good look).

6. Water Resistant
While many woods soak in moisture and water, causing them to swell, there are some varieties of wood which are highly water resistant.

7. Healthy & Natural
Electrostatic charge: This is a big deal for some people as electrostatic changes are believed to be unhealthy to some degree
If a room is finished with an uncoated wood, it'll help regulate the humidity which could aid in helping people with respiratory sensitivity. Not only does it regulate humidity, just the mere look of wood can sooth one's mind and relax the nervous system. Just make sure the humidity doesn't make the wood too moist, otherwise that static electricity benefit could be thrown out the window.
For these reasons, wood is deemed to be a healthy choice over metal, plastic and other materials.

8. Acoustically Sound
Even though wood doesn't act as a perfect sound insulator, it does prevent echoes from bouncing around the room by absorbing sound waves. When compared to its constructive competitors, wood proves to be much more effective at sound insulation, especially when it comes to insulating between different rooms.

Wood is also used in many concert halls around the world as it naturally dampens sound, creating that perfect tone within the room.

Wooden Log Cabin Prefabricated wood house with terrace low cost made in China for Export KPL-002

36mm, 50mm, 70mm, 105mm,135mm, double wall, customized wall thickness

PVC / Wooden / Heat insulting off-bridge aluminum

Log / Customized Painting

28mm thickness Wooden floor

--High quality and efficiency

--Good working accuracy±0.5mm (Most advanced automatic machinery from German)

--Port advantage ,we are port city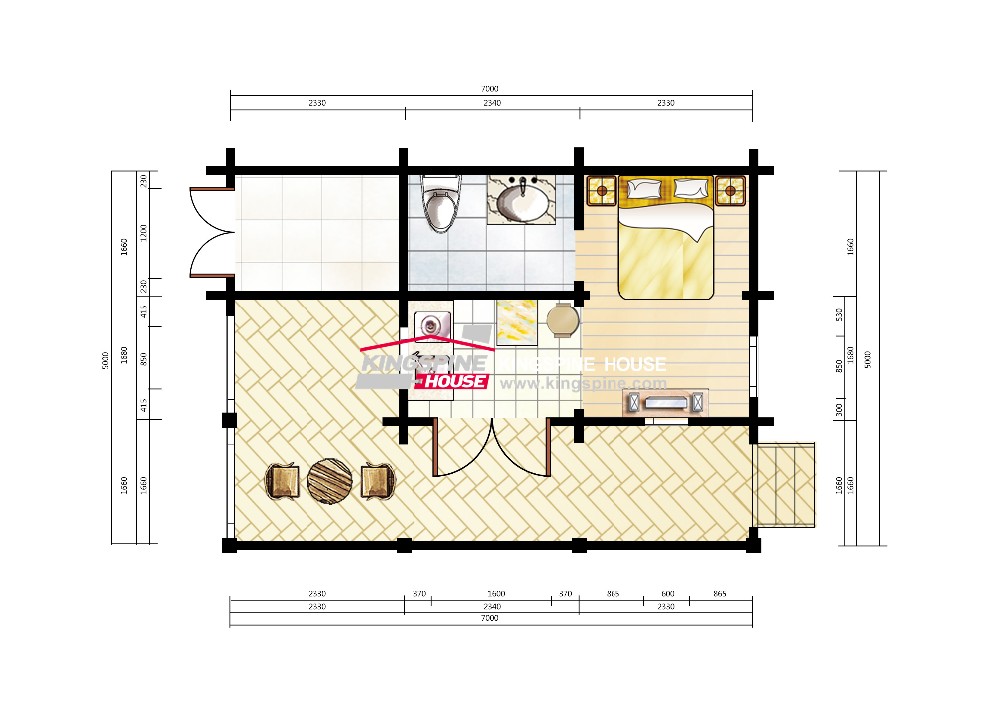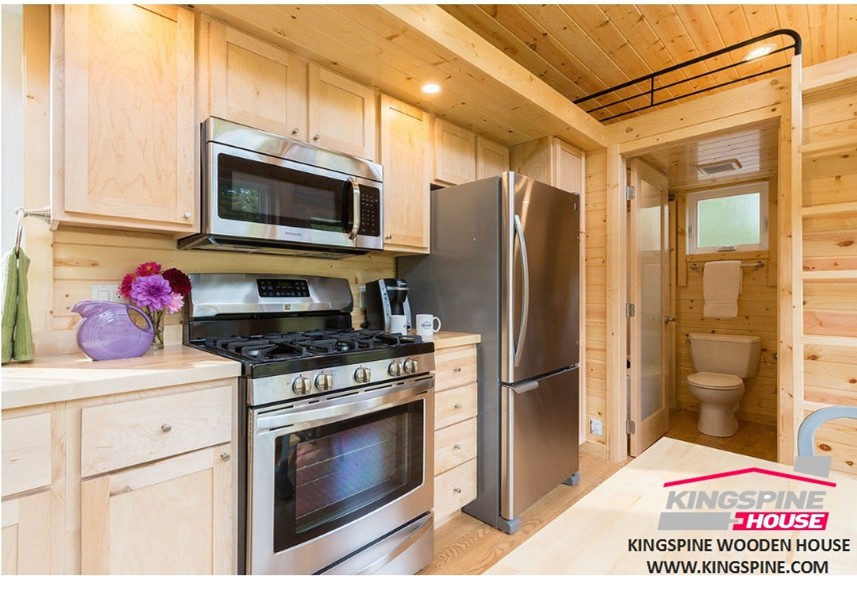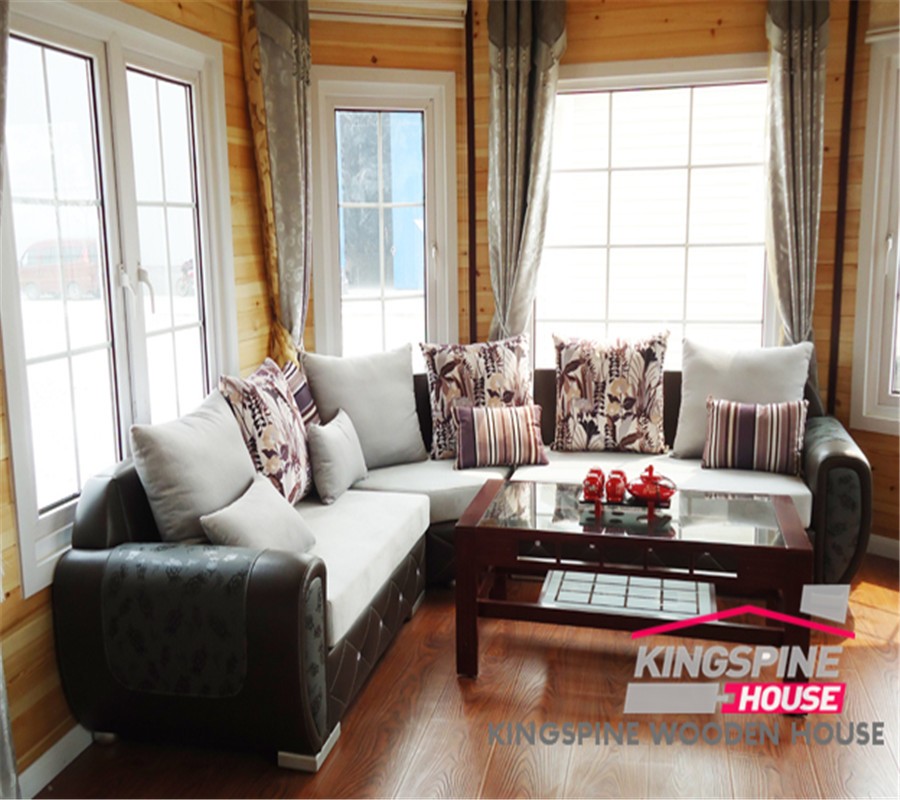 The above image is done with our Germany S6 equipment , high precision, high quality, high efficiency.It still need follow-up polishing step after shaping to make sure the surface more smooth.Please trust our brand, we paid more process to provide you a higher quality products.We always believe that quality is above all forever.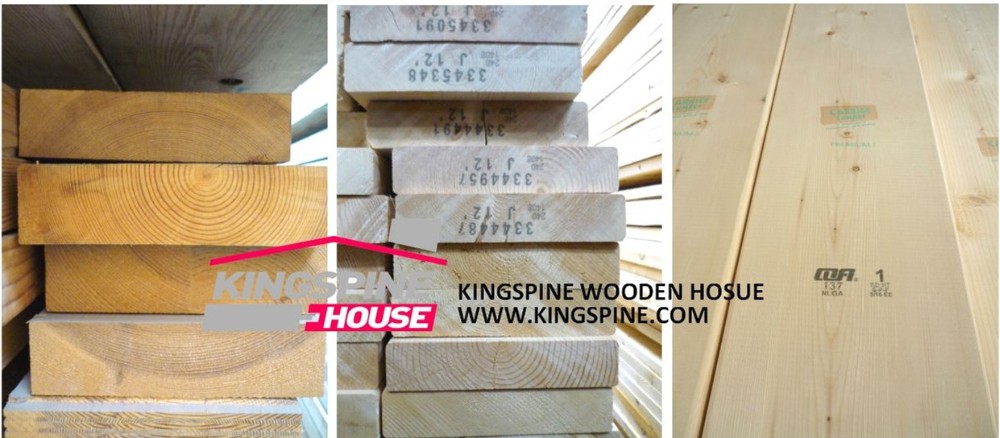 Short for Canadian sprue, pine and fir, white color with less patterns. J Grade (top grade) material is our only option.
Wood material is stronger, color is darker with more wooden patterns.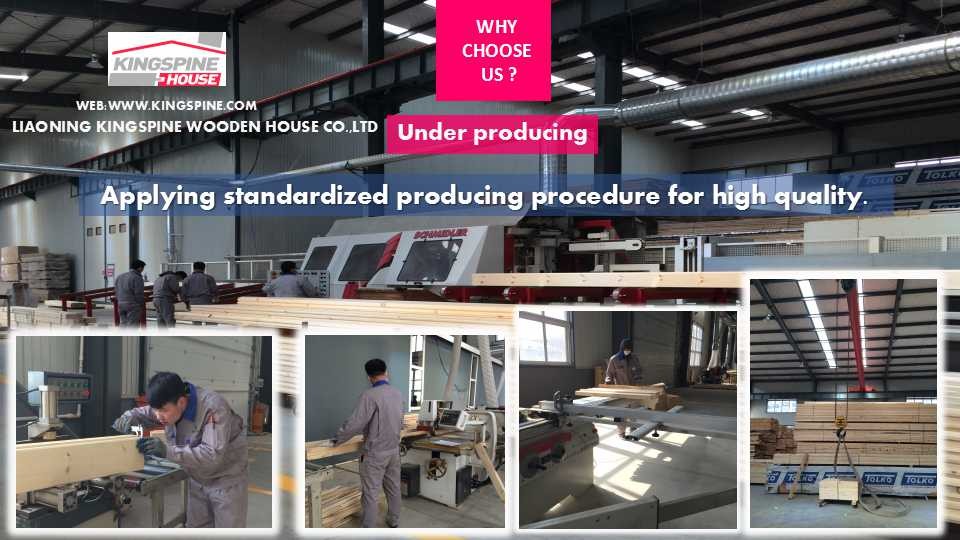 Professional production team with most advanced machinery, we can provide best cheap wood house for all the clients.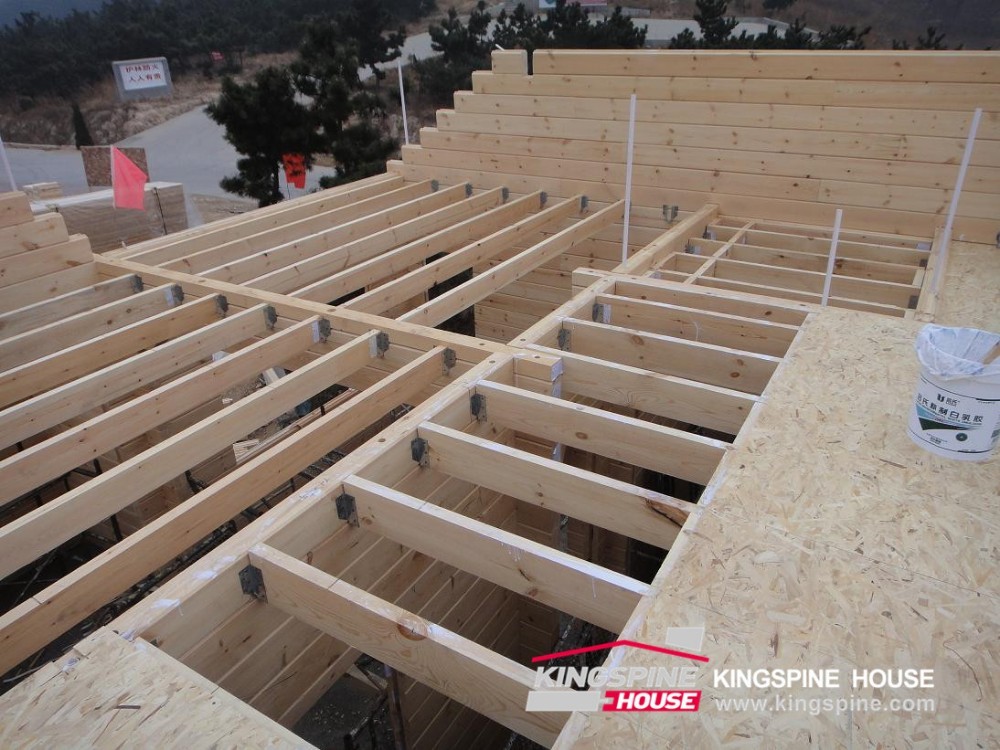 1. Make foundation, it could be strip foundation or plarform foundation.
2. Installation of wall. All wall logs are made of solid wood.
3. First floor system installation, full sets of floor system consists of floor frame, OSB board, heat insulation, ironing parts.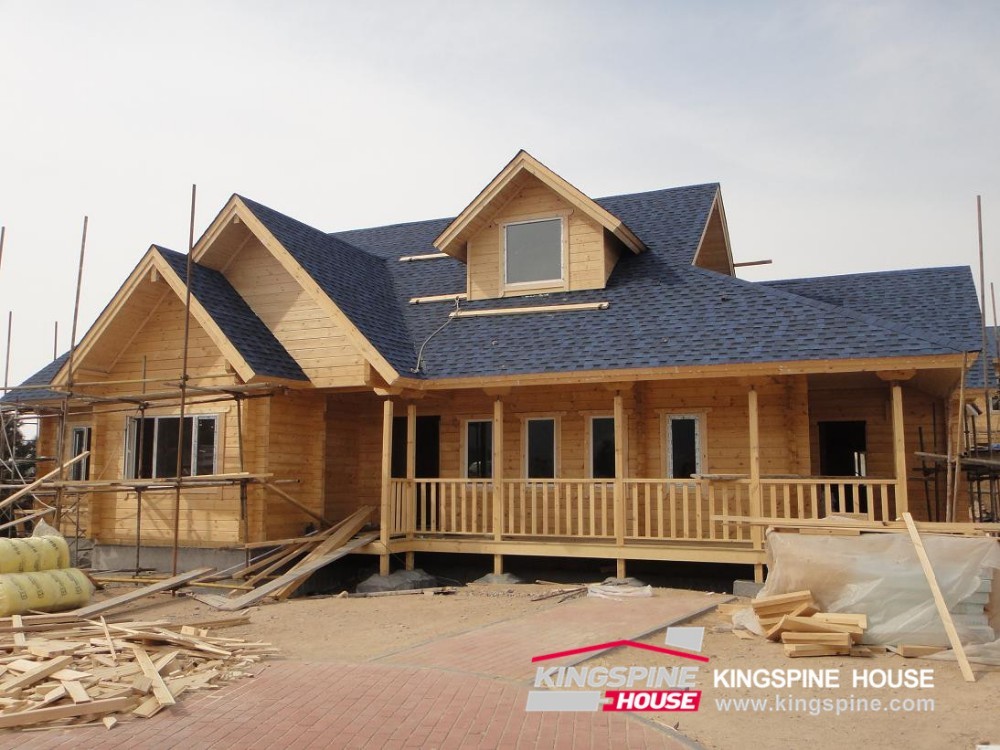 4. Installation of rafters and roof system, it consists of rafter, OSB board, ceiling board, insulation etc.
5. Installation of water proof, shingles, window and doors.
6. As soon as installation finished, paint of wood wax oil is necessary, it can protect the wood from natural damages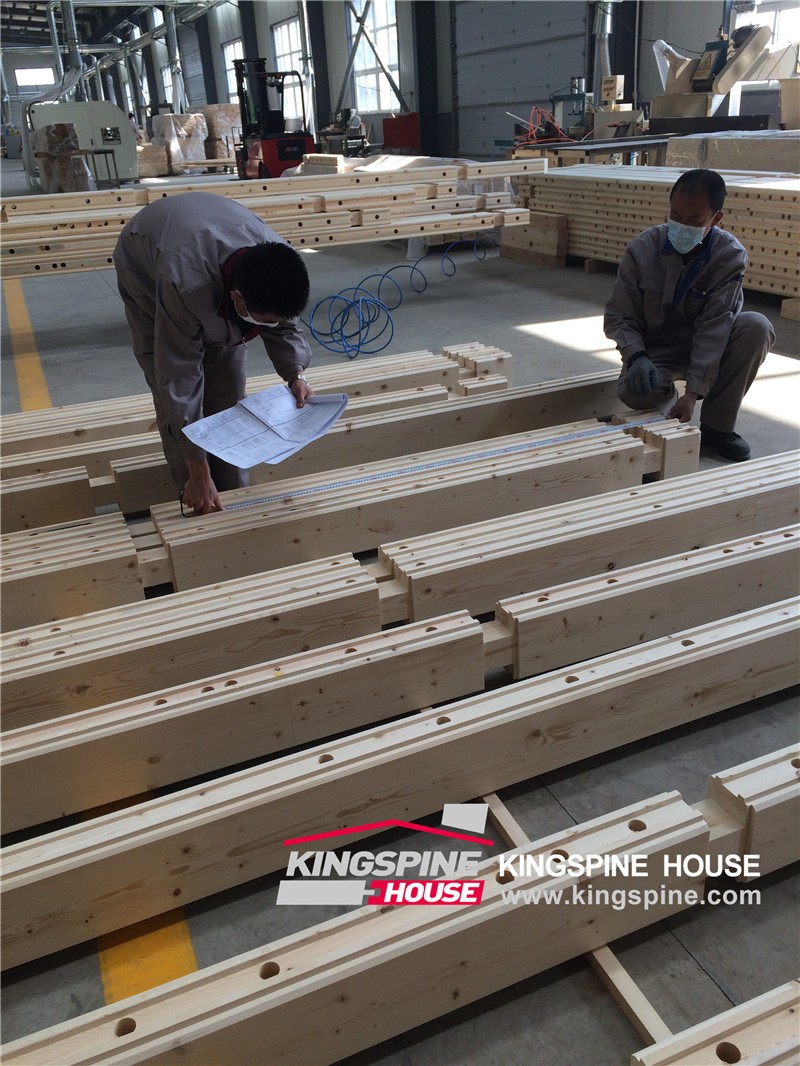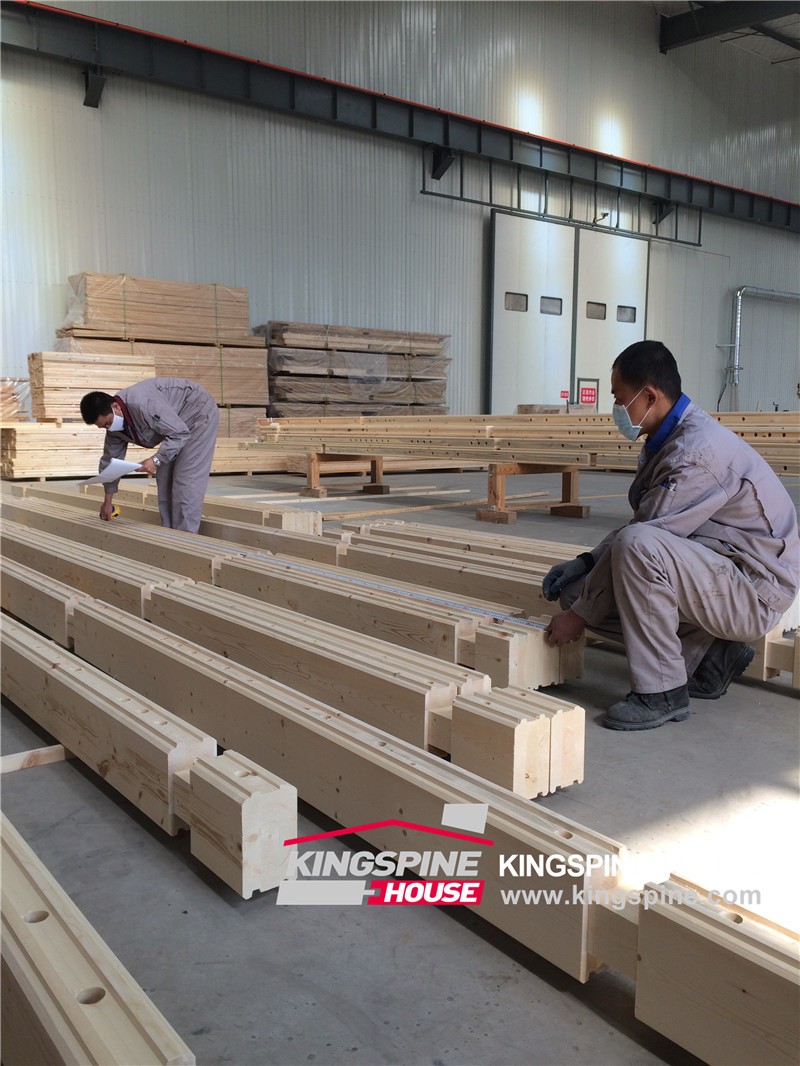 Our inspection team make sure that all the materials has been prepared according to packing list, and every piece of materials produced exactly the same with production drawings.
We also do pre-assembling for all of our products, thats why all of our houses can be assembled successfully during the past 8 years without any mistake.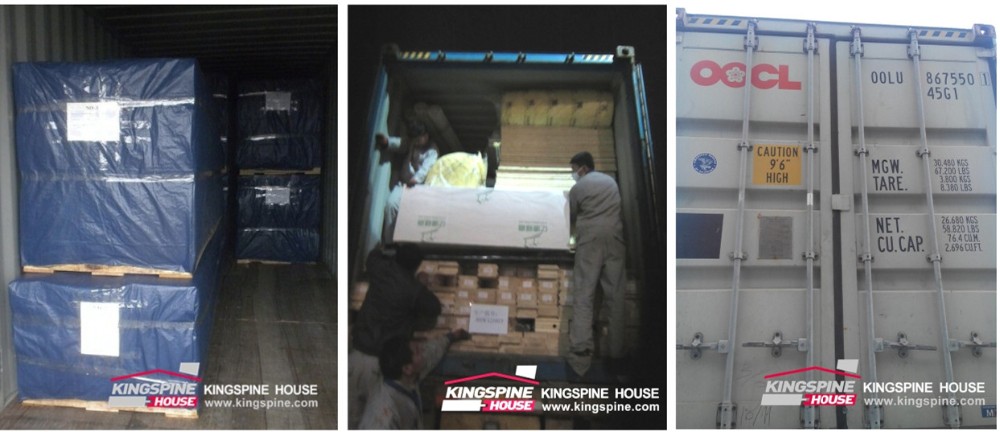 There are two ways for loading, packing with wood pallet or directly in the container, it depends on clients' specific request and the loading conditions.
Liaoning Kingspine Wooden Structure Co., Ltd.
Liaoning Kingspine Wooden House Co., Ltd. established in 2009, is a professional manufacturer engaged in the research, development, production, sale and service of all kinds of log houses, post & beam wooden houses, movable houses and wooden house components. Kingspine located in Yingkou city near Dalian with convenient transportation access. They dedicate to strict quality control and thoughtful customer service, their experienced staff members are always available to discuss your requirements and ensure full customer satisfaction. In recent years, Kingspine has imported a series of most advanced equipments from Germany including Schmidler S6 Plus automatical production line with precision of 0.5mm, four sides moulder for processing large size logs, glulam columns and beams, laminated machine for laminating materials to 18 meters. In addition, they have obtained certificates from SGS. Kingspine houses are selling well in China, and enjoy great popularity in such countries and regions as Japan, India, France and other countries. OEM and ODM orders are also welcomed. Whether selecting a current product from our catalog or seeking engineering assistance for your projects, you can contact Kingspine customer service center about your requirements. If you are looking for decent quality wooden house with good price, Kingspine is your best choice!
Company Name: Liaoning Kingspine Wooden Structure Co., Ltd.
Representative: ZhaoYu Hao
Product/Service: Wooden House , Wooden Cabin , Container House , Prefabricated House , Thermo Wood , Log House
Capital (Million US $): 40000000RMB
Year Established: 2009
Total Annual Sales Volume (Million US $): Above US$100 Million
Export Percentage: 31% - 40%
Total Annual Purchase Volume (Million US $): US$50 Million - US$100 Million
No. of Production Lines: 69
No. of R&D Staff: 5 -10 People
No. of QC Staff: 5 -10 People
OEM Services Provided: yes
Factory Size (Sq.meters): 50,000-100,000 square meters
Factory Location: No. 67 Riyue Road, Bayuquan District, Yingkou City, Liaoning Province
Contact Person: Mr. Chris Zhang
Tel: 86-0417-6273900